Akira Hattori (Born April 27, 1980 in Akita-ken, Japan), is Akito Takagi's and Moritaka Mashiro's editor. He helped them with their names and eventually got them serialized for Detective Trap. Once they got serialized, however, Hattori had to hand them over to Goro Miura due to conflicting responsibilities. However, after the serialization of The Perfect Crime Club, Hattori returns as their editor.
Appearance
He is a thin, odd-looking man with a wide-eyed gaze and distinctive lips.
Personality
Hattori is often portrayed as one of the calmer and more calculating editors in the series. He comes across as a very wise and experienced editor which leaves him raising his voice only when he sees it absolutely necessary to do so. He is very fond of Takagi and Mashiro and continues to be interested in their progression as mangakas, offering off-hand advice to Miura when he can.
Summary
Ashirogi Muto and The Two Earths manga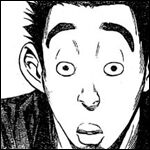 Hattori is first introduced when Takagi and Mashiro bring in the manuscript for The Two Earths in chapter 8.
He first tells them the good parts of it, then the bad parts, stating that it is too narrative and it would be better as a light novel. As a result Mashiro and Takagi make plans for alternative ideas.
Hattori pointed out that Takagi is a calculative type, a person who figure out how to make a successful manga. However, he told them that rather the calculative type, a person that just draw what they like often becomes successful.
Takagi and Mashiro's Break Up
At one point, when Mashiro decides to break their team up because Takagi was not able to send a name on time, Hattori found out about it. He did not want the two of them to split up and conversing with the two separately made him realized how much the two still need each other to complete a work. Surprised that the two, even though never talked anymore, almost had the same idea for their next work, he schemed to bring them back together. Hattori told Takagi to about how the two of them are really "in-sync with each other than they thought" and keep it a secret (how he was working on a mystery story rather than a mainstream battle manga) from Mashiro. Eventually the two find out, and schemed to get back at Hattori for plotting behind their backs. Hattori is later surprised by the two finally back together and completing a name together, with eight chapters done for serialization. With the result of their hard work, he tells them to enter the "Golden Future Cup" and get a good result, if they do good, there's a possibility for them to get a serialization.
Golden Future Cup
Ashirogi Muto's New Editor
Shortly after Mashiro and Takagi got the news they would be serializied, they got a new editor. Hattori comes with Miura to discuss the finances and their pay. Soon, Hattori tells them that Miura will be their new editor. Takagi and Mashiro want Hattori to continue being their editor but it's not possible as he is editing the new series Tarakon and also the established series One Piece. He tells them it's common for newly published mangakas to be assigned to new editors. Hattori leaves, and Miura says Hattori was demanding to stay as their editor. They then bow to him, thanking him for everything he has done for them. He wants them to come up with something good.
New Years Party
Trivia
Hattori edited One Piece for a short while.
Hattori's face (especially his lips and eyes) resemble the character Ryuk from the manga Death Note which is also drawn by Takeshi Obata.

In the 20th episode of the anime series, he even bit an apple while looking at it with a greedy look on his face. This was probably intended to be a nod to Ryuk.

Hattori wears New Balance brand sneakers.
Community content is available under
CC-BY-SA
unless otherwise noted.