Line 1:
Line 1:
 
+

<mainpage-leftcolumn-start />

−

You're the gretaset! JMHO

 
 
+

<div style="font-family:lucida console;">

 
+

<gallery type="slider" orientation="bottom">

 
+

Slider-volumes.jpg|VOLUMES:|link=Category:Volumes|linktext=Browse our volume listing; add any missing info you may have.

 
+

Slider-characters.jpg|CHARACTERS:|link=[[Category:Characters]]|linktext=Read about your favorite Bakuman。 characters!

 
+

Slider-manga.jpg|IN PRINT:|link=Bakuman Manga|linktext=The beloved original manga which spawned an anime series...

 
+

Slider-anime.jpg|ON SCREEN:|link=Bakuman Anime|linktext=The popular anime based on the Bakuman。 manga.

 
+

</gallery><br />

 
+

[[File:Popular-header.png|center|link=]][[File:Underline670-header.png|center|link=]]

 
+

<center><big>'''MAIN CHARACTERS'''</big></center>

 
+

{| align="center" style="text-align:center;"

 
+

|[[File:Moritaka_port.png|130px|link=Moritaka Mashiro]]<br /><small>'''[[Moritaka Mashiro]]'''</small>

 
+

|[[File:Akito_port.png|130px|link=Akito Takagi]]<br /><small>'''[[Akito Takagi]]</small>

 
+

|[[File:Yuriko_port.png|130px|link=Aoki Yuriko]]<br /><small>'''[[Aoki Yuriko]]'''</small>

 
+

|[[File:Miho_port.png|130px|link=Miho Azuki]]<br /><small>'''[[Miho Azuki]]'''</small>

 
+

|[[File:Eiji_port.png|130px|link=Eiji Niizuma]]<br /><small>'''[[Eiji Niizuma]]'''</small>

 
+

|-

 
+

|[[File:Shinta_port.png|130px|link=Shinta Fukuda]]<br /><center><small>'''[[Shinta Fukuda]]'''</small></center>

 
+

|[[File:Akira_port.png|130px|link=Akira Hattori]]<br /><center><small>'''[[Akira Hattori]]'''</small></center>

 
+

|[[File:Kazuya_port.png|130px|link=Kazuya Hiramaru]]<br /><center><small>'''[[Kazuya Hiramaru]]'''</small></center>

 
+

|[[File:Miyoshi_port.png|130px|link=Kaya Miyoshi]]<br /><center><small>'''[[Kaya Miyoshi]]'''</small></center>

 
+

|[[File:Takuro_port.png|130px|link=Takuro Nakai]]<br /><center><small>'''[[Takuro Nakai]]'''</small></center>

 
+

|}<br />

 
+

<center><big>'''VOLUMES'''</big></center>

 
+

{| align="center";"

 
+

|[[File:Bakuman manga 01.jpg|90px|link=Volume 1]]

 
+

|[[File:Bakuman manga 02.jpg|90px|link=Volume 2]]

 
+

|[[File:Bakuman manga 03.jpg|90px|link=Volume 3]]

 
+

|[[File:Bakuman manga 04.jpg|90px|link=Volume 4]]

 
+

|[[File:Bakuman manga 05.jpg|90px|link=Volume 5]]

 
+

|[[File:Bakuman manga 06.jpg|90px|link=Volume 6]]

 
+

|[[File:Bakuman manga 07.jpg|90px|link=Volume 7]]

 
+

|-

 
+

|[[File:Bakuman manga 08.jpg|90px|link=Volume 8]]

 
+

|[[File:Bakuman manga 09.jpg|90px|link=Volume 9]]

 
+

|[[File:Bakuman manga 10.jpg|90px|link=Volume 10]]

 
+

|[[File:Bakuman manga 11.jpg|90px|link=Volume 11]]

 
+

|[[File:Bakuman manga 12.jpg|90px|link=Volume 12]]

 
+

|[[File:Bakuman manga 13.jpg|90px|link=Volume 13]]

 
+

|[[File:Bakuman manga 14.jpg|90px|link=Volume 14]]

 
+

|-

 
+

|align="center"|[[File:BakumanVolume15.png|90px|link=Volume 15]]

 
+

|}

 
+

<br />

 
+

[[File:About-header.png|center|link=]][[File:Underline670-header.png|center|link=]]

 
+

[[File:Bakuman_Vol_01-02.jpg|right|250px|link=Bakuman Series]]'''''[[Bakuman Series|Bakuman]]''''', stylized as '''''Bakuman。''''' (バクマン。), is a shōnen [[manga]] written by [[Tsugumi Ohba]] and drawn by [[Takeshi Obata]], who also worked together on the popular manga ''Death Note''. The series follows talented artist Moritaka Mashiro and aspiring writer Akito Takagi, two ninth grade boys who wish to become [[mangaka]].

 
+
 
+

The first chapter was released in Japan on August 11, 2008 serialized in the magazine ''[[Weekly Shōnen Jump]]''. The first volume was released on January 5, 2009 and as of October 2011, fifteen volumes have been released. During the first two weeks of its release, the first volume placed fourth and ninth in manga sales in Japan. It is also the first manga released online by [[Shueisha]] in multiple languages before becoming available in print outside of Japan. At San Diego Comic-Con International 2009, Viz Media announced they had licensed the series for their Shonen Jump imprint...<br /><center><small>[[Bakuman Series|Read more >]]</small></center>

 
+

<br />

 
+

[[File:Latest-ep-header.png|center|link=]][[File:Underline670-header.png|center|link=]]

 
+

'''158. Drawn Out and in One Go'''

 
+
 
+

After realizing [[Reversi]]'s greatest weakness, [[Takagi]] wonders if Reversi can still keep going with only two main characters. Can Reversi continue to go on the way it is, or will it end before it can get an anime?

 
+
 
+

<br /><br />

 
+

[[File:Poll-header.png|center|link=]][[File:Underline670-header.png|center|link=]]

 
+

<poll>

 
+

Which of the main characters is your favorite?

 
+

Moritaka Mashiro

 
+

Akito Takagi

 
+

Yuriko Aoki

 
+

Miho Azuki

 
+

Eiji Nizuma

 
+

Shinta Fukuda

 
+

Akira Hattori

 
+

Kazuya Hiramaru

 
+

Kaya Takagi

 
+

Takuro Nakai

 
+

</poll>

 
+

<center><small>[[Polls|See more >]]</small></center>

 
+

</div>

 
+

<br />

 
+

{{w:animangafooter}}

 
+

<mainpage-endcolumn />

 
+

<mainpage-rightcolumn-start />

 
+

<div style="font-family:lucida console;">

 
+

[[File:Help-header.png|center|link=]][[File:Underline300-header.png|center|link=]]

 
+

<center>We are currently housing [[Special:Statistics|{{NUMBEROFARTICLES}}]] articles, and [[Special:Statistics|{{NUMBEROFFILES}}]] files.

 
+

We need YOUR help expanding and adding articles to the wiki!</center>

 
+

----

 
+

<div style="font-variant: small-caps"><center>[[Special:Newpages|New pages]] | [[Wikia:Help:Tutorial|Wiki tutorial]] | [[Wikia:Category:Help|Help pages]]</center></div>

 
+

----

 
+

<center>If you're new to wikia, please use the above links to get started.</center>

 
+

<center>If you already have editing experience, and you have an article relating to '''[[Bakuman Series|Bakuman。]]''' to contribute, use the box below to create it:</center>

 
+

<createbox>width=30</createbox>

 
+

<br />

 
+

[[File:Feat-art-header.png|center|link=]][[File:Underline300-header.png|center|link=]]

 
+

[[File:Toru.png|150px|left]]<p style="text-align: center;">[[Nanamine Toru]], Bakuman's main antagonist.</p>

 
+

<br /><br /><br /><br /><br /><br />

 
+

[[File:Feat-med-header.png|center|link=]][[File:Underline300-header.png|center|link=]]

 
+

[[Video:Bakuman ending 2|300px|center]]

 
+

<br />

 
+

<verbatim>TwitterWidget</verbatim>

 
+

<br />

 
+

[[File:News-header.png|center|link=]][[File:Underline300-header.png|center|link=]]

 
+

<rss>http://news.google.com/news?hl=en&safe=off&resnum=0&q=%20bakuman&um=1&ie=UTF-8&sa=N&tab=wn&output=rss|charset=UTF-8|short|date|max=4</rss>

 
+

<center><small>[{{fullurl:{{FULLPAGENAME}}|action=purge}} Refresh] '''·''' [[News|Read more >]]</small></center>

 
+

<br />

 
+

[[File:Blogs-header.png|center|link=]][[File:Underline300-header.png|center|link=]]

 
+

<div class="plainlinks" style="text-align:center;">[{{fullurl:{{FULLPAGENAME}}|action=purge}} <small>↑ REFRESH ↓</small>]</div>

 
+

<center><bloglist count=3 summary=true summarylength=120 type=bloglist timestamp=true order=date>

 
+

<title></title>

 
+

</bloglist>

 
+

</center>

 
+

<mainpage-endcolumn />

 
+

<br style="clear:all;" />

 
+

__NOTOC__ <!-- This removes the table of contents -->

 
+

__NOEDITSECTION__ <!-- This removes the section edit links -->

 
+

[[Category:Browse]]
---
Revision as of 01:01, 3 January 2012


MAIN CHARACTERS
VOLUMES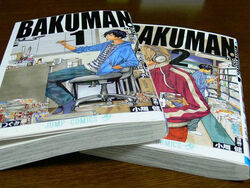 Bakuman
, stylized as
Bakuman。
(バクマン。), is a shōnen
manga
written by
Tsugumi Ohba
and drawn by
Takeshi Obata
, who also worked together on the popular manga
Death Note
. The series follows talented artist Moritaka Mashiro and aspiring writer Akito Takagi, two ninth grade boys who wish to become
mangaka
. The first chapter was released in Japan on August 11, 2008 serialized in the magazine
Weekly Shōnen Jump
. The first volume was released on January 5, 2009 and as of October 2011, fifteen volumes have been released. During the first two weeks of its release, the first volume placed fourth and ninth in manga sales in Japan. It is also the first manga released online by
Shueisha
in multiple languages before becoming available in print outside of Japan. At San Diego Comic-Con International 2009, Viz Media announced they had licensed the series for their Shonen Jump imprint...
Read more >


158. Drawn Out and in One Go
After realizing Reversi's greatest weakness, Takagi wonders if Reversi can still keep going with only two main characters. Can Reversi continue to go on the way it is, or will it end before it can get an anime?


See more >

We are currently housing 484 articles, and 857 files. We need YOUR help expanding and adding articles to the wiki!
---
---
If you're new to wikia, please use the above links to get started.
If you already have editing experience, and you have an article relating to Bakuman。 to contribute, use the box below to create it:
<createbox>width=30</createbox>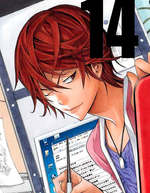 Nanamine Toru, Bakuman's main antagonist.




<rss>http://news.google.com/news?hl=en&safe=off&resnum=0&q=%20bakuman&um=1&ie=UTF-8&sa=N&tab=wn&output=rss%7Ccharset=UTF-8%7Cshort%7Cdate%7Cmax=4</rss>
Refresh
·
Read more >


unable to parse url
Community content is available under
CC-BY-SA
unless otherwise noted.