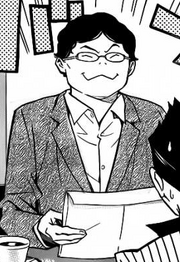 Kisaku Arai is a veteran mangaka who was serialized in Jump. He previously worked as an assistant to Mikihiko Azuma, another veteran mangaka.
Arai is first mentioned during the serialization meeting that results in the debut of Arai's series, Cheese Crackers (Cheese Okaki), along with Detective Trap, Kazuya Hiramaru's Otters 11, and another manga by an unknown veteran mangaka. He does not appear until later in the series during the first New Year's party that Muto Ashirogi attends.
Despite Arai's status as a veteran, his manga series tend to be short-lived and during the meeting that nearly results in the cancellation of What is Required, Arai's third series is cancelled. Shortly after Mikihiko Azuma is serialized, he runs into Arai and introduces him to Toru Nanamine's new scheme against Shonen Jump.
Personality
[
]
Arai is friendly, mostly getting along well with whoever he meets. Out of all the characters in the series, he is perhaps the most ordinary. Judging from the manga that he drew, as well as his perpetual smile, he most likely specializes in comedies and gag manga.
Appearance
[
]
Arai wears glasses and has hair similar to Takahama's.
Manga
[
]
When Arai was still a contributor, he always drew romantic comedies. His editor mentions how Arai tends to set all his series in a school environment.
Cheese Crackers, the first work by Arai that is mentioned in Bakuman, obtains 3rd place for its debut chapter in the reader polls, and its second chapter gets 9th place. It is cancelled early on, which prompts Takagi and Mashiro to rework Detective Trap.
Arai's subsequent work, Hustleman A, was easily accepted for serialization. It was likely cancelled later, giving rise to Mosoutsukai Moshimo. Arai later writes Boy E, Girl B, a oneshot, for the Super Leaders Love Fest comes in 3rd with 172 votes.
Mosoutsukai Moshimo was a manga that was cancelled during the meeting that also resulted in serializing Hiramaru's Boku ni wa Tsujinnai. The miniature icon associated with it suggests that it would be associated with a monkey or a group of monkeys. This was Arai's third cancellation.
Arai's next manga, Tournament and School, is a manga bearing resemblance to PCP in that it uses a school setting and a non-mainstream battle. The manga was brought to Jump as a carry-in and resulted from Toru Nanamine's scheme to undermine Jump.
External Links
[
]
Template:Mangaka