Koji Makaino is a Mangaka, and a musician, under the pen name and stage name KOOGY. He wrote a manga called Colorfuscical and tried to get his fans to vote for him in the surveys to ensure he would get serialized. He tried to work with Yuriko Aoki for a while before she left him to work with Nakai .
Appearance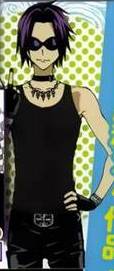 KOOGY has a very over-the-top rock star appearance and wears a lot of accessories.
Personality
KOOGY is very egotistical, believing his fans will vote for his manga just because he is a very powerful musician.
Summary
Golden Future Cup
KOOGY's manga, Colorfusical, placed second in the Golden Future Cup. He tried to use his status as as a musician to get his fans to vote for his manga. This angers Fukuda Shinta, who leads Akito Takagi, Moritaka Mashiro, and Nakai on a complaint to the editors. KOOGY puts off working on his manga to have interviews, causing his manga to do poorly in the results.
Afterward, at the party of Mangaka, KOOGY seduces Aoki and performed his song for the other mangaka, announcing that he was going to be serialized in Jump SQ with Aoki on Colorfusical. The news reaches Nakai, who becomes driven to desperation and spends several weeks in the winter drawing Hideout Door outside Aoki's apartment.
Manga
Makaino Koji's manga, Colorfusical, is about a hero who is going to change the world. The hero changes colors with his eyes and changes people's hearts with his voice. It got 2nd place in the Tezuka Award but placed only 14th in the Treasure Award. Nonetheless, because of its first award, it still manages to get serialized in Jump SQ
Community content is available under
CC-BY-SA
unless otherwise noted.