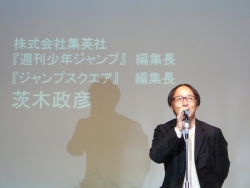 Masahiko Ibaragi (茨木政彦 Ibaragi Masahiko) is the editor-in-chief of Jump SQ. Like several other editors in Shueisha, he bears a resemblance to his real-life counterpart.
Personality
Edit
Ibaragi is depicted in a negative light, as some of the mangaka attending the New Year's Party state that he "says the same thing every year" and "spent the whole party trying to drum up business". He has proved to be very sly, serializing Koji Makaino in Jump SQ to capitalize on the publicity and partnering him with Yuriko Aoki.
At the first New Years' Party that several prominent authors such as Muto Ashirogi, Eiji Niizuma, and Kazuya Hiramaru, Ibaragi announces that Koogy's Colorfusical will be serialized in Jump SQ and that he will be working with Ko Aoki.
The real-life Masahiko Ibaragi was the editor in chief of Weekly Shonen Jump and worked with the magazine for 25 years. Prior to leaving Jump, Ibaragi has edited Kinnikuman and worked with an Ashirogi-esque prodigy named Masanori Morita.
Ibaragi was also portrayed in cameo roles in other manga/anime series, such as Gintama.
Community content is available under
CC-BY-SA
unless otherwise noted.