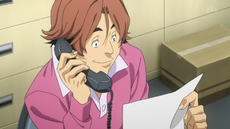 Masakazu Yamahisa (山久雅和 Yamahisa Masakazu, born April 11, 1987 in Shizuoka-ken, Japan), is Ryu Shizuka and later, Ko Aoki's editor. He works with him to get Ryu's manga more Weekly Shōnen Jump friendly, and offers Aoki to work on a manga with romance in it suitable for the magazine.
Character
Edit
Initially, Yamahisa seems proud, arrogant, and laidback. He loves to make fun of Miura for the latter's ineptitude, and vice versa. He is also a womanizer to an extent, asking Aoki Ko to sign on to Jump again because the latter is a "pretty, young woman."
Later, Yamahisa shows a friendlier side to his assigned mangaka, Shizuka Ryu. He gradually helps the introverted Shizuka open up to him and is probably the only one whom Shizuka considers a friend, given that he played video games with Shizuka multiple times and introduced Shizuka to a cabaret club, which significantly brightened up the latter and his manga. He even tells Shizuka that the cabaret women only listen to his sorrows because he pays them to do it, stimulating Shizuka's mind again.
Yamahisa is first mentioned but unseen at the first New Years' Party that several starting mangaka, such as Eiji Niizuma, Ashirogi Muto, and Kazuya Hiramaru attend. At that point, he was Jump's newest editor and did imitations of the other editors that the mangaka had to guess.
Yamahisa's first appearance is trying to talk Aoki Ko into working for Jump SQ, and eventually becomes Ryu Shizuka's online editor. He gradually allows both mangaka to open up to him and has even been able to improve Shizuka's life and social interactions on several occasions, stimulating his mind to write manga in the same way that his superior Yoshida's actions stimulate Hiramaru's manga.
Yamahisa bears a resemblance to a minor character named Kadowaki from Hikaru no Go, another series drawn by Takeshi Obata. Kadowaki is a character who thinks about entering the pro exam in Go until he is beaten by Fujiwara no Sai.
Yamahisa has also edited Butterman, though seems dissatisfied with the work.
External links
Edit
Community content is available under
CC-BY-SA
unless otherwise noted.