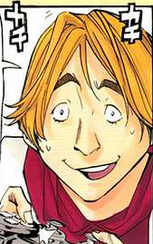 Masakazu Yamahisa (山久雅和 Yamahisa Masakazu, born April 11, 1987 in Shizuoka-ken, Japan), is Ryu Shizuka and later, Ko Aoki's editor. He works with him to get Ryu's manga more Weekly Shōnen Jump friendly, and offers Aoki to work on a manga with romance in it suitable for the magazine.
Character
Initially, Yamahisa seems proud, arrogant, and laidback. He loves to make fun of Miura for the latter's ineptitude, and vice versa. He is also a womanizer to an extent, asking Aoki Ko to sign on to Jump again because the latter is a "pretty, young woman."
Later, Yamahisa shows a friendlier side to his assigned mangaka, Shizuka Ryu. He gradually helps the introverted Shizuka open up to him and is probably the only one whom Shizuka considers a friend, given that he played video games with Shizuka multiple times and introduced Shizuka to a cabaret club, which significantly brightened up the latter and his manga. He even tells Shizuka that the cabaret women only listen to his sorrows because he pays them to do it, stimulating Shizuka's mind again.
Bakuman
Trivia