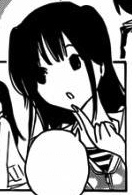 Mina Azuki (born 1999) is Miho Azuki's sister.
Appearance
Edit
She has black hair in pigtails; in later years, her hair becomes longer and frames her face, losing the pigtails. Like her mother's side of the family, Mina has a beautiful face, as noted by Akito Takagi. At age 19, her body structure resembles Miho's, only a bit slimmer.
Personality
Edit
Like any sibling, Mina would enjoy teasing Miho when she acted odd; however, she does care for her sister. In the passing years, Mina's good looks won her many boyfriends, but she was never able to hold onto any of them; she became quite embaressed when she realised Miho had found her true love as a child, when she had rather poor luck.
She developed a habit of entering Miho's room, then knocking, usualty catching her sister doing something related to her striving to achieve her dream. It seems Mina enjoyed this, as she said she would be sad not being able to hear Miho scold her for that once she's married.
Character outline
Edit
She is first coming back from shopping with her mom and Miho. She then teases Miho for hiding behind their mom/blushing when they crossed paths with Akito Takagi and Moritaka Mashiro. She is also seen at Miho's birthday when Kaya gives Miho her present, which was actually Moritaka's present (a self-portrait of Miho, Akito and Moritaka switched it when Kaya was sleeping, but then they had Kaya's present delivered to Miho's house, creating a perfect crime of their own).
She later reappears entering Azuki's room by surprise. She calls her for dinner. Mina has a bad habit of entering Miho's room then knocking as seen in recent chapters. When she hears about Miho's promise to Moritaka, she openly wails and says she'll miss her sister when she gets married. When Mina thinks about Miho's love for Moritaka, she then questions her own inability to hold onto a boyfriend, saying she's dated a few guys. However, her mother says there are different kinds of love.
External links
Edit
Community content is available under
CC-BY-SA
unless otherwise noted.