We're Getting Mutants in the MCU - The Loop
Play Sound
Miyuki Azuki (亜豆 美雪 Azuki Miyuki), née Miyuki Haruno (春野 美雪 Haruno Miyuki), is the woman that Nobuhiro Mashiro loved and the mother of Miho Azuki. Miyuki also loved Nobuhiro, but she could never say it and she later married someone else. She would also watch Superhero Legend with Miho when she was younger. It was only then that she realized that Nobuhiro loved her as well due to the story in Legend being based on his feeling for her. After learning of Moritaka Mashiro and Akito Takagi plan to be successful mangakas, she encourages them to go through with their dream. She once feared Miho would go down the same path as her (not confessing her feelings to the one she loves) but has been proven wrong since.
Appearance
[
]
Miyuki has dark gold hair that she wears in ringlets with square bangs that cover half of her eyebrows and golden eyes.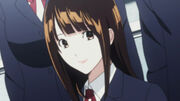 She also bears a strong resemblance to Miho Azuki (Miyuki's eldest daughter) as Miyuki looked almost exactly like Miho when Miyuki was younger.
Despite being 42 years old, Miyuki looks very young.
Personality
[
]
When it comes to personality, Miyuki is quite similar to Miho Azuki (Miyuki's eldest daughter). She has a shared a sense of humor with Nobuhiro Mashiro. However, despite her feelings for him, she grew tired of waiting for him and fell in love with another man; she still reflects on her past, though. She is very knowledgeable about who the smartest students in her children's schools are, knowing who Akito Takagi was immediately.
Despite being kind and caring, she does have a negative trait of being too nosy about Miho and Moritaka's love life. Miyuki is good at keeping secrets unless she feels no need to keep them, but she will give hints about the secret, such as warning Miho not to go down the same path in love as she did with Nobuhiro.
Etymology
[
]
The name Miyuki means "beautiful" (美) (mi) and "snow" (雪) (yuki).
Miyuki's surname Azuki means "second, Asia" (亜) (a) and "beans" (豆) (zuki).

Her maiden name Haruno means "spring" (春) (haru) and "field, wilderness" (野) (no).
[

]