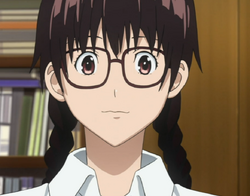 Natsumi Kato (加藤奈津実 Katou Natsumi, born September 10, 1985 in Chiba-ken, Japan), is one of Ashirogi Muto's assistants, along with Takahama and Ogawa. She is their only female assistant. She has one year of experience with shounen and one of experience with shojo. Takagi is mad because Miura didn't tell him they would have a female assistant. Since Kato is there, Miyoshi Kaya can stay at their apartment.
Kato has dark hair which she always keeps in pigtail braids. She wears glasses, and looks years younger than her actual age; at the end of the story, she's at least 32, but looks like her mid-20s
Kato is generally a cheerful girl and is happy about her job as an assistant. She prefers younger men, even harboring a small crush on Mashiro. However, she gives up on him when she meets Azuki. She generally gets along with everyone she meets, but can get very nervous and flustered when flirted with,
Kato is Ashirogi Muto's assistant for Detective Trap until the manga is cancelled.
When Takahama gets serialized with Business Boy Kenichi, she is his assistant until his manga is cancelled.
After Aoki says she does not want male assistants for her manga A Time of Green Leaves, Kato is suggested as an assistant because BB Kenichi was just cancelled.
Ashirogi Muto's Assistant Again
[
edit
|
edit source
]
After Shun Shiratori left to pursue Rabuta & Peace, and with A Time of Green Leaves soon ending, Kato returns as Ashrogi Muto's assistant again for PCP. When Ashirogi decided to switch PCP to Reversi, Kato stayed up for multiple days along with Moriya and Orihara to help Mashiro get Reversi and PCP finished before their deadline.
Community content is available under
CC-BY-SA
unless otherwise noted.