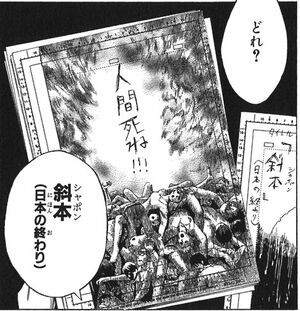 Shapon (The End of Japan) is a one-shot written and illustrated by Ryu Shizuka that he entered into the Treasure Award that was judged by Eiji Niizuma. As indicated by the title, it is a manga about the end of Japan. It came in second place with Eiji's comment being, "Pretty Interesting", but the main reason he only achieved second place was because Ashirogi Muto's one-shot Future Watch was also entered into the Treasure Award that month, thus achieving first place and garnering a huge amount of praise from Eiji. At the meeting, the Jump editors said it was too dark for Jump, but Eiji persisted that it was genius, so it recieved an "Eiji Nizuma award."
Community content is available under
CC-BY-SA
unless otherwise noted.