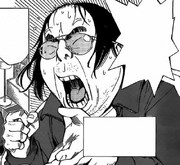 Shigure Yanagi is one of the veteran authors that are drawing for Nanamine's company. He is the author of The Sword that Transcends Time, a one-shot that ended in 7th place.
He first appears in Nanamine's office, wanting to have a meeting with him. He wanted this because Nanamine let him know that he won't be receiving any names from now on. Nanamine explains that he is being let go because his drawing skills are too old-fashioned and made him score below Ashirogi Muto. He tells him to go back to Jump's editors. Shigure protests saying that his editor is no good. He begs Nanamine to stay and Nanamine tells him that he can stay if he agrees to become an assistant of a 20-year old mangaka.
Community content is available under
CC-BY-SA
unless otherwise noted.