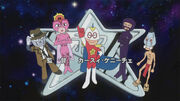 Super Hero Legend (超ヒーロー伝説 Chou Hiro Densetsu) is a gag comedy manga written by Nobuhiro Mashiro (pen-name Tarou Kawaguchi). It eventually becomes an Anime.
Characters
[
]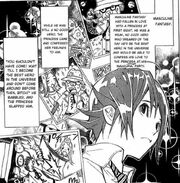 Masculine Fantasy is a character in Super Hero Legend. Masculine Fantasy had fallen in love with a princess at first sight. He was weak, no good, and dreamed to become the best hero in the universe and plan to confess his love toward the princess at his inaugural party. While the hero is still no good the princess confesses her love toward him but he refuses untill he becomes the best hero in the universe.
This was Nobuhiro Mashiro's only successful manga series. Since he wasn't a great artist and wasn't able to use a G-Pen, he made gag manga. It was serialized in Weekly Shōnen Jump issue 20 1995. It became an anime two years later.
Trivia
[
]
Superhero Legend came in 7th in the 1st Bakuman "Manga" Popularity Contest and came in 9th in the 2nd Popularity Contest.
Superhero Legend can possibly be a refrence to Tottamo Lucky Man a manga by Hiroshi Gamō which has similar style and story