Takuro Nakai was a manga artist, but beforethat he used to be an assistant. He won a monthly award ten years ago, and was determined to get serialzed since. He was Niizuma's assistant. He is good with backgrounds and angles. He was the artist of Hideout Door, and he worked with Aoki Yuriko. After Hideout Door is cancelled Nakai leaves, because he is sick of himself and how he used manga for his own personal gain.
Appearance
Nakai is overweight man with short black hair and small black eyes. It is noted that whenever he is with a pretty girl he shaves off his stubble.
Personality
Nakai, when first introduced, is a long time manga assistant. He dreams of working on a successful manga series but had no chance. He also craves to have a girlfriend but is much to shy and embarrassed to do so. He is extremely devoted to his work and to Aoki to the point that he sat outside of her apartment drawing pictures in the middle of a blizzard and during a pummeling of some street punks. After working with Aoki he become more self confident with women. However after working as an assistant for Shoyo Takahama he becomes very overconfident with his relationships with women. After disgusting Aoki, he realizes that he's no good and leaves to return to his family.
Summary
Golden Future Cup
Nakai worked with Aoki for Hideout Door in the Golden Future Cup. Nakai did the drawings and Aoki did the story. Everyone was amazed at how good Nakai's backgrounds were.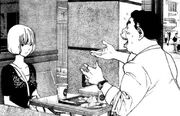 After the New Years Party
Nakai is heartbroken that Aoki is working with Makaino Koji. She tells him that his drawings couldn't convey the world in her story. He stays in a park next to Aoki's apartment, to draw and show her that he would be a better assistant. Fukuda trys to bring him back, but he couldn't stop him. He draws whenever he had free time and all day when he had the day off. During this time a massive blizzard struck, but he continued to draw. Aoki was amazed to see his quality of backgrounds despite the conditions. Nakai, soon after, is attacked by street punks. He desperately protects his drawings and his hand so he can continue to draw. Eventually everyone is worried that Nakai will die if he continues. Fukuda, Takagi, Mashiro, and Miyoshi try to bring him inside, only to find Aoki holding an umbrella over him. She tells him the truth, that she only blamed them not being serialized on him, and agrees to work with him again.
Creator Strike
Nakai, along with Aoki, Fukuda, Hiramaru, and Niizuma firmly stand on their beliefs to get Sasaki to allow Mashiro to continue to draw while in the hospital. If he didn't then all of them would not draw until Mashiro could draw. Sasaki would not overturn his decision so they all went on strike. During the strike, Nakai used it to improve the drawings of Hideout Door in the meantime.
Hideout Door's Cancellation and Business Boy Kenichi
When Hideout Door was ending due to low popularity, Nakai was deeply saddened and immediately went on a sobbing rampage, tossing whatever he could across the studio. As the weeks toward its forced ending, Nakai became increasingly depressed.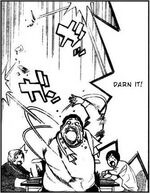 Not too long after Hideout Door's cancellation, he is picked up by Shoyo Takahama to work on his manga, Business Boy Kenichi. When he enters the studio he see's Ashirogi Muto's former female assistant Kato. He instantly is infatuated by her and is quite happy to find a young pretty girl working with him.
Business Boy Kenichi's Cancellation and a Tearful Farewell.
Aoki, calls Nakai to ask for his assistance in her new ecchi series Season of Green Leaves. He wonders which will be a better situation, hooking up with Aoki by working with her or continue working with Kato. He asks her to meet up at a restaurant and tells Aoki that if she wants him to draw for her, she must be his girlfriend. Out of disgust, she slaps him in the face saying that he's the most disgusting person she's ever met. Nakai leaves, deciding that she's no good. Later, as Kenichi's ratings plummet, Nakai is worried that he'll never get to work with Kato any longer. He tries to subtly ask Kato to date him, but she says that she likes younger men and doesn't want anything to do romance wise with him. Realizing that Aoki needs new assistants for her manga he calls her. He begs her to let him draw for her. Unfortunately he tells her that he's calling because he got dumped by Kato. Aoki still refuses to let him draw for her (not that it mattered because she wanted only female assistants.) After, he refused to show up to work. Takahama calls him and finds out that he's quitting manga and is returning home. After Takahama calls Mashiro, Mashiro calls Nakai wondering why he's quitting. Nakai says that he's disgusted at himself for using his drawing skills for the wrong reason. The next day, Mashiro tries to stop him in person, but he's dead set on leaving. As he leaves, Fukuda and Aoki are outside. Aoki thanks him for his work with her. He apologizes for his actions then promptly leaves. Fukuda shouts if he's going to end it like this. Tear struck, he departs without another word.
Current Events
Nakai has been seen recently in his home back in Akita. He has been working on his family's farm. His mother is upset that he quit, calling him pathetic. Nakai, out of frustration leaves to go to bed.
Manga
Hideout Door's Serialization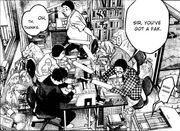 Hideout Door was being serialized in Jump. Its first chapter got 1st place and
its third chapter got 5th place; Nakai now has his own assistant.
Community content is available under
CC-BY-SA
unless otherwise noted.