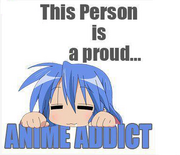 Konnichiwa, minna-san~
Helloooo~ I'm EMOchickz23
How're you all doing? Good? 
I really love Bakuman! It's really great. I'm also quite a fan of drawing so I guess I immediately liked it. I like how, no matter what their parent's say, they don't give up on their dreams... Wish I could do that. But, unlike Mashiro, I'm not that gifted in drawing, hehe. It's also very funny, and all the characters are well thought of. Hmm... yeah!
I hope you like it too, it's really cool~ Oh, I'm also gonna do my best to edit and add extra info. I'll do my best! I'm actually aiming to be an admin, I love this anime so much, hehe!
I also edit; Special_a Wiki and Zombie-Loan Wiki . Feel free to drop by and check it out~ I'm also the admin of Kaze no Stigma Wiki , I would appreciate it if you guys could check it out and give me some feed back. It's still a working progress, but, hopefully, it'll be a cool wiki soon~
My favorite pages
Edit
Community content is available under
CC-BY-SA
unless otherwise noted.