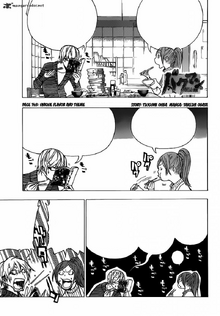 Sorry I've been long for some time (damn, I missed 2 chapters), but here is my new blog for chapter
149. Unique Flavor and Theme
!
We had to wait some time for this chapter, about a week after the other Shōnen Jump series were released, but the quality of this chapter was exceptionally high (if you didn't notice, than you don't know anything of scanlation).
On the chapter. We get our weekly doses of Bakuman. comedy, with our favorite comic-relief pair: Shujin and Kaya. Some blablabla and Shujin suddenly has an epiphany. And apparently, Kaya is really on the ball (?). We go on to Hattori and Azuma, who we learn that he's actually really sensitive. Hattori is as enthusiastic as always, that cheers everyone up, right? And yet again, we get a confirmation that Nanamine is a bitch. He's being mean to Kosugi again. Nanamine then tries to be cool by slamming his darts into the goal (is that what you call it?), but it completely backfires and makes him look like an even more scumbag than he already is. And dammit Nanamine, stop shouting at Kosugi! Even more blablabla and we see that Mashiro's sending Merry Christmas and Happy New Year to Miho. I'm glad, because it's been a while since Miho actually got some screen-time and she looked exceptionally cute this time.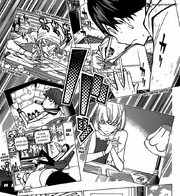 And then my favorite scene from the whole chapter. Team Fukuda working like a BEAST! Well, excluding
Hiramaru
of course. Oh maybe not? And here goes
Aoki
motivating Hiramaru to draw, and it's super effective! And then… WHOOP WHOOP
Mikata no Justice
is in third,
PCP
is second (awesome!!) and (surprisingly)
Azuma
's one-shot is in third! IN YOUR FACE NANAMINE! LOL, Nanamine even lost to Azuma, the very man he fired a few chapters ago! Booya!
And now Nanamine is depressed. Serves you right. For the last page, we see some heart-warming scenes of Azuma, who says to Hattori that he'll retire after this. At last, he can go without any regrets (no, he's not going to die). I really like Azuma now, especially because he turned out to be a really good guy who was a close friend of Kawaguchi Taro. Azuma can now finally visit Kawaguchi's grave with his head held high, good for you Azuma.
That's it for this week, check in again next week for Bakuman. chapter 150.
Community content is available under
CC-BY-SA
unless otherwise noted.