Yujiro Hattori (Born April 3, 1982 in Kanagawa-ken, Japan) works for Shueisha and is Eiji Nizuma and Fukuda Shinta's editor. He let Nizuma do his manga his way, by not asking for names, but later does the names. He didn't want Fukuda to get a series because he didn't want to edit more then one mangaka.
Appearance
Yu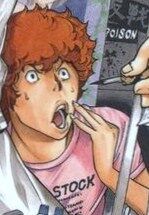 jiro is a young man with short, curly, orange-red hair.
Personality
Yujiro hardly argues with Jump's policies and its then-top mangaka Niizuma, and often enforces both. He often appears as a background character, reiterating thoughts on certain aspects as well as giving other editors suggestions. While initially arrogant towards Hattori, Yujiro eventually warms up to him to the point where they meet regularly and exchange ideas as editors.
Summary
Crow's Serialization
Golden Future Cup
Community content is available under
CC-BY-SA
unless otherwise noted.